Aroda Pressure Washing Services You Can Depend On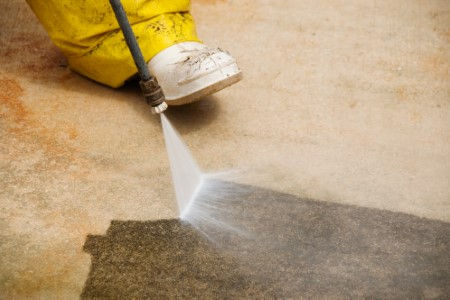 Are you looking for professional pressure washing for all your Aroda properties? The experts at Dr. Powerwash offer both residential and commercial pressure washing for all your Aroda cleaning needs. Pressure washing is a great way to keep all your outdoor surfaces clean and maintained throughout the year. Not only does pressure washing blast away dirt, grime, and built up contaminants, but it also helps to keep your stronger Aroda surfaces maintained.
Our residential pressure washing option is available for all your home cleaning needs. Pressure washing is uniquely suited for all outdoor surfaces, no matter what they're made of. Whether you're looking at cement surfaces or surfaces made from natural stone, our pressure washing service can help. We work on:
Rust Removal
Concrete Cleaning
Window Washing
And More!
For all your more fragile cleaning projects, like a house washing or a roof cleaning, our Aroda experts utilize professional soft washing. Soft washing uses biodegradable cleaners to break down mold, mildew, and bacteria without harming these surfaces. Our experts will individually assess each cleaning project we work on to ensure you're getting the best cleaning options for your home. If we think soft washing is the way to go, we'll let you know so you can feel confident in our cleaning options.
We also offer premier commercial pressure washing. Commercial pressure washing offers your business great outdoor cleaning options without taking days upon days. If you're looking for a quick cleaning option, pressure washing is the best option for you.
To learn more about how pressure washing can help with all your Aroda cleaning needs, call Dr. Powerwash today at 434-207-6783 or complete our online request form.
Aroda Concrete Cleaning
Concrete cleaning is an important part of your maintenance project. Concrete is a very common building material because it's strong and durable. However, concrete is a porous material, which means it's made up of thousands of little pores. These pores are prone to collecting dirt, liquids, and other materials that can start to break down at your concrete surfaces.
To ensure your concrete is cleaned and maintained to the highest standards, you need to invest in a professional concrete cleaning with a pressure washing company. Pressure washing utilizes a high powered water spray for their cleaning option. This high powered water spray gets into all the tiny pores that make up your concrete and clean out microscopic contaminants easily.
Another reason to invest in professional pressure washing for your concrete cleaning project is that already existing cracks can be hard to maintain. Once cracks have appeared, your only option besides costly repairs is maintenance. Pressure washing is uniquely suited to get into all the smallest cracks on your concrete and clean away any contaminants that might contribute to extending cracking.
To learn more about how pressure washing can help your concrete cleaning project, call Dr. Powerwash today and speak to our experts.