Trust the Exterior of Your Charlottesville Home To An Expert Pressure Washing Company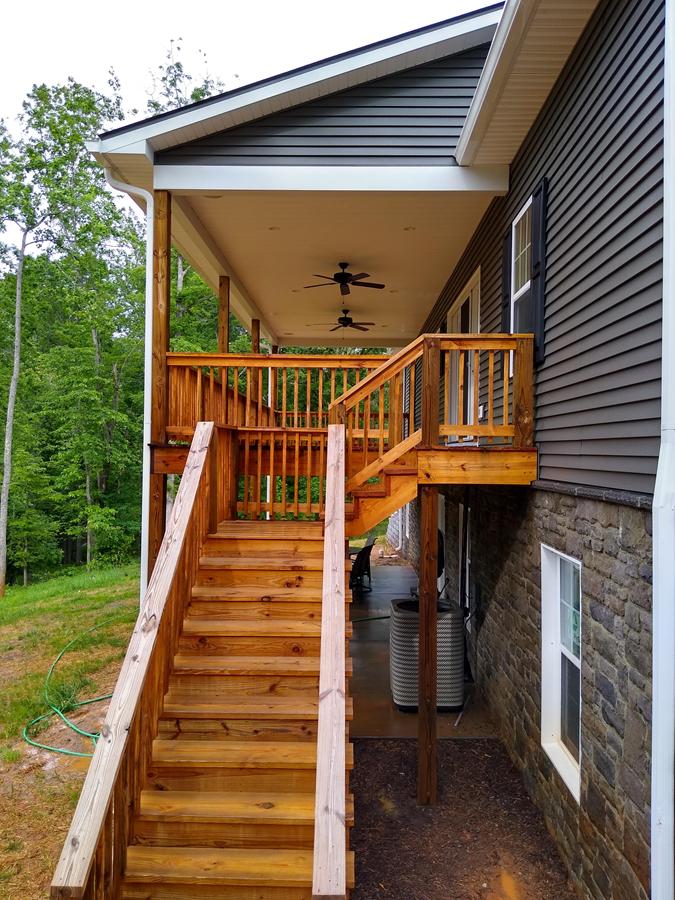 Dr. Powerwash, the premier Charlottesville pressure washing company, offers a complete selection of power washing services. Need commercial building washing? We've got you covered there, too. Our experience, training, reliability, and dedication make us your first-choice pressure washing company for both residential and commercial jobs.
Just what exactly is pressure washing, and what does a pressure washing company do?
Isn't this something you can do yourself?
Let's explore both questions:
Pressure washing is a technique for thoroughly cleaning hard exterior surfaces by safely using a water spray that is sometimes heated and combined with special biodegradable and environmentally friendly detergents and rinses. The pressure exerted by the spray loosens and removes stubborn contaminants that all the scrubbing and traditional detergents in the world will not remove. When heat and detergents are used, the surfaces are also disinfected. Disinfecting the surface not only kills what's there, but also delays future growth of the contaminants.
Biologic contaminants such as algae, mold, mildew, and lichen are living organisms that not only discolor surfaces, but also damage the material your exterior is made of. The damage occurs because they penetrate the surface, they grow and expand, and release a variety of damaging corrosive chemicals harmful to vinyl and wood siding, stucco, and even brick and concrete.
Also, there is a continual buildup of dirt and grime that comes from the man-made pollutants and natural contaminants in the air such as pollen, bacteria, and fungus. These threats also release chemicals that react with the materials of your exterior to damage and weaken them. This decay, left unchecked, could one day require expensive repair or replacement of portions of the exterior of your home.
Pressure washing done at two to three-year intervals, in most cases, removes the existing build-up and can significantly slow down future growth. Regular washing promotes both a "like new" appearance of your home, as well as continuously protects the exterior surface form the damages of time, weather, and contaminants. It is the most practical and affordable way to keep your home looking great and minimize mother nature's damaging effects.
Thinking about doing it yourself?
Maybe you might. But, keep these things in mind before you decide to do it yourself:
You will have to buy or rent expensive equipment that might just be as or more expensive than the service itself.
You should be trained to safely operate and use the equipment, so no harm comes to either you or your home.
Each type of surface such as vinyl or stucco has a unique tolerance for pressure and temperature to avoid damaging the surface being cleaned.
Not all detergents and rinses can be used on a given type of surface. For example, detergents and rinses for vinyl are not the same is what is use for brick or stucco.
Not all detergents can be mixed with just any rinse. Detergent/rinse combinations can be quite delicate and unique with no room for error.
As a direct result of our years of experience and untold hours of training, the Dr. Powerwash pressure washing company has developed the highest level of skill and expertise to diagnose and your home confidently, competently, and completely. Our dedicated technicians are standing by to answer your questions and set up appointments for free consultations and estimates. Call Dr. Powerwash today and give your Charlottesville home the individualized pressure washing treatment and care it deserves!