Dr. Powerwash Is The Go-To Pressure Washing Team In Fray's Grant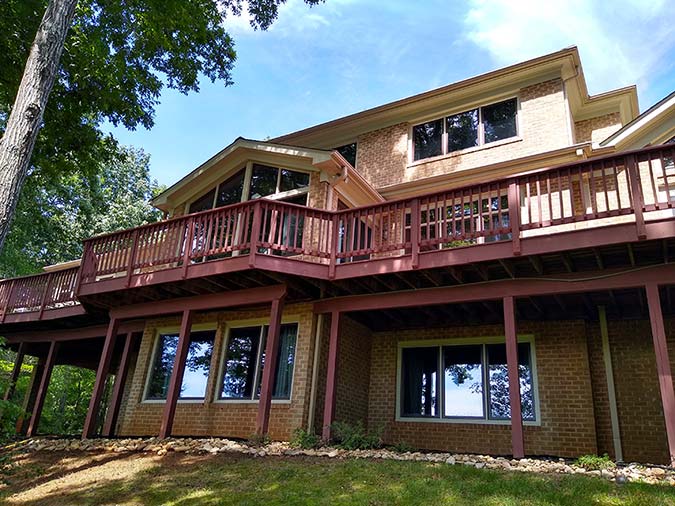 Are you looking for a professional pressure washing company you can trust in Fray's Grant? Dr. Powerwash is proud to offer residential pressure washing services throughout this beautiful neighborhood to ensure you're getting the best service possible when you need it most.
Fray's Grant offers any view you'd like– mountains, ponds, forests, and pastures. But just like any other home on any other property, yours will likely suffer mold growth and dirt accumulation after just a few months of exposure to the elements. Luckily, our pressure washing experts provide multiple options for your exterior cleaning needs. Each individual project is assessed by our pressure washing experts to ensure we use the right techniques and tools to get you the best results possible. You can choose from:
House washing
Roof cleaning
Gutter cleaning
Window cleaning
And more
We know that some cleaning projects require a softer touch, which is why we also offer a low-pressure cleaning option when you're looking for professional house washing or roof cleaning services. No matter what kind of exterior cleaning you need help with in Fray's Grant, Dr. Powerwash is here to help. Give us a call and let's talk about your next pressure washing project!
Gentle Roof Cleaning For Fray's Grant Homes
Soft washing is the only way to safely clean the rooftop of your home. Dr. Powerwash is proud to use environmentally friendly detergents to penetrate stubborn and harmful growths like mold, saturating them with a biodegradable product that attacks them at their roots so they never grow back. Your roof will look and function like it's just been installed after the debris and residue are washed away with our gentle cleaning techniques.
No one wants to see spots, streaks, dirt, or pollen making your rooftop look dull, especially on the classic Virginia architecture that is common in Fray's Grant. The trick is hiring a reputable roof cleaning expert like Dr. Powerwash and getting the best service around. Roof cleaning might even seem like the type of work you can try to do on your own, but you'd be mistaken. It's messy, time-consuming, and potentially dangerous to anyone not trained in this industry. Hiring the pros is always the best option because we're licensed, insured, and ready to take on roofs of any size and shape.
Fray's Grant Calls Us For Superior Pressure Washing
Pressure washing is famous for instantly restoring hardscape surfaces to like-new condition, and our talented specialists have the expertise and top-of-the-line equipment to make your property home stand out. You picked the beautiful views of Fray's Grant for a reason, and we want you to enjoy the view of your house just as much as the mountain ranges and sprawling forests here in Virginia. Our pressure washing goes far beyond just beautifying your home, although that's important, too. You'll enjoy these many benefits as well:
Lowers allergens
Erases ugly dirt, grime, and debris
Extends the longevity of your home
Lowers utility bills
Ensures better insurance premiums
Enhances curb appeal, property value, and ownership pride
Considering all these amazing benefits, you can't afford to wait one more day for Dr. Powerwash to perform pressure washing work on your home, so call us today!