Do Power Washing Companies Bring Their Own Water?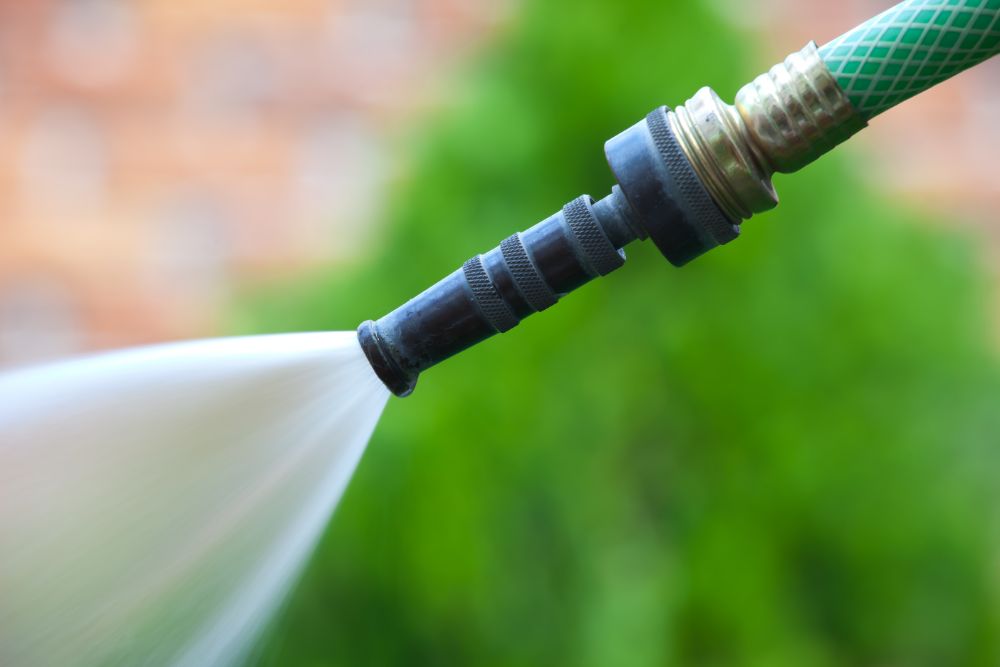 No matter where you live, what type of home you have, or how large your property, everyone knows keeping your home looking nice takes a huge chunk of your time. When it comes to the exterior of your home, you may decide to hire a professional power washing company to help you with the work. This is a smart choice! Hiring your local professional power washing company will save you time and ensure you get the best results. If you've hired a professional for the job, you may be wondering if they will bring their own water or if they will need access to your water supply. This is a question we often get and is an important one to ask!
Some Power Washing Companies Bring Their Own Water
Though some professionals have the equipment to bring their own water supply, it is often not enough for the whole job. At Dr. Powerwash, we have several trucks in our fleet. Most of our trucks have a 275-gallon water tank, which may or may not be enough for a whole project. We always ask for access to a water spigot in order to top off our water supply and to complete larger jobs. At Dr. Powerwash, we never pull water from a house directly to our pressure washing machines. Using a normal garden hose, the water would simply run from the water spigot and go right into our tank at its normal flow rate.
Not all power washing companies will follow this process. Many companies or contractors will connect their pressure washer directly to your water supply and pull the water out at a faster rate than normal. This process could be harmful to your water supply or pump. When considering a power washing company, we always recommend that you ask if they will need access to your water supply. The answer is almost always yes. If it is, be sure to also ask about their process.
Why Does the Power Washing Company Use My Water?
There are several reasons why the power washing company you hire may require access to your water supply:
It is dangerous and unsafe to haul that much water. Tanks full of any liquid make driving precarious and increase the chances of accidents. Transporting 200 gallons of water equates to more than 1,600 pounds added to the vehicle, requiring extra driving precautions.
It is not efficient to haul that much water. If a power washing company were to bring all of their own water, they would have to charge more for fuel costs and for labor. The main reason is that water is extremely dense and heavy — 1 gallon of water equals about 8.3 pounds. Transporting just 200 gallons of water means that a vehicle or trailer would be transporting over 1600 pounds of water. All of this extra weight burns a lot of fuel and greatly increases the wear and tear on vehicles and trailers. Those increased costs will be reflected in the final bill to the customer.
Most jobs don't really require that much water. We use a soft washing technique for most of our external cleaning projects, and it is much more efficient than standard pressure washing. If a professional external cleaning company requires access to your water supply, odds are they won't even be using too much of it.
Because of the reasons above, most power washing companies will require access to your water supply, even if they bring their own water. If you are intent on having a company not use your water, you may find yourself making many calls and having to pay a premium.
What About My Water Bill?
If the power washing company you decide to hire does need access to your water, you may be wondering what effect this will have on your water bill. The good news is it won't have much effect at all! In fact, it would cost you more to hire a power washing company that brings all of their own water due to fuel and labor costs. As stated above, the weight of water increases fuel costs and wear and tear on vehicles, which translate to higher costs for the end consumer. Allowing your power washing company to access your water supply is more cost effective than if the company were to bring their own.
Additionally, professional companies that have the capability to use a soft washing technique like Dr. Powerwash will use less water. Using a soft washing technique will allow the soap mix to do the hard work of killing the mold instead of copious amounts of water. A very thorough rinse will then remove the dead mold, dirt, and grime from the surfaces to be cleaned. This process saves a lot of water compared to traditional pressure washing. Be wary of contractors that solely use pressure washing — they will require a lot of water.
Though a power washing company may need access to your water supply, you shouldn't see a drastic increase in your water bill due to the efficiency of modern techniques used by professional companies. However, your water bill will depend upon the type and size of your project. A larger to-do list will require more water.
It's also important to choose a trusted and legitimate company for the job. Professional power washing companies know how to use their water effectively. If you end up going with a less-experienced company, you may find that they use more water than needed. Our employees go through a rigorous training program. Efficient techniques are emphasized daily to prevent waste and make the entire process as awesome as possible for our clients. This is why we always recommend doing your research before hiring a pressure washing company. Make sure to read reviews, and if it matters to you, ask whether they bring their own water or will require access to yours.
Trust the Professionals — Call Dr. Powerwash
Dr. Powerwash is the trusted local power washing professional of Charlottesville and the surrounding area for many reasons. We have great reviews, are licensed and insured, and have the equipment to tackle any job. Though we do bring our own water to the job, we will require access to water on the property as well. Our goal is not only to work efficiently to make your home shine, but to also provide an amazing customer experience! If you have any questions please give us a call! If you're interested in getting a quote for your home, fill out our online form or give us a call today!