How To Clean Gutters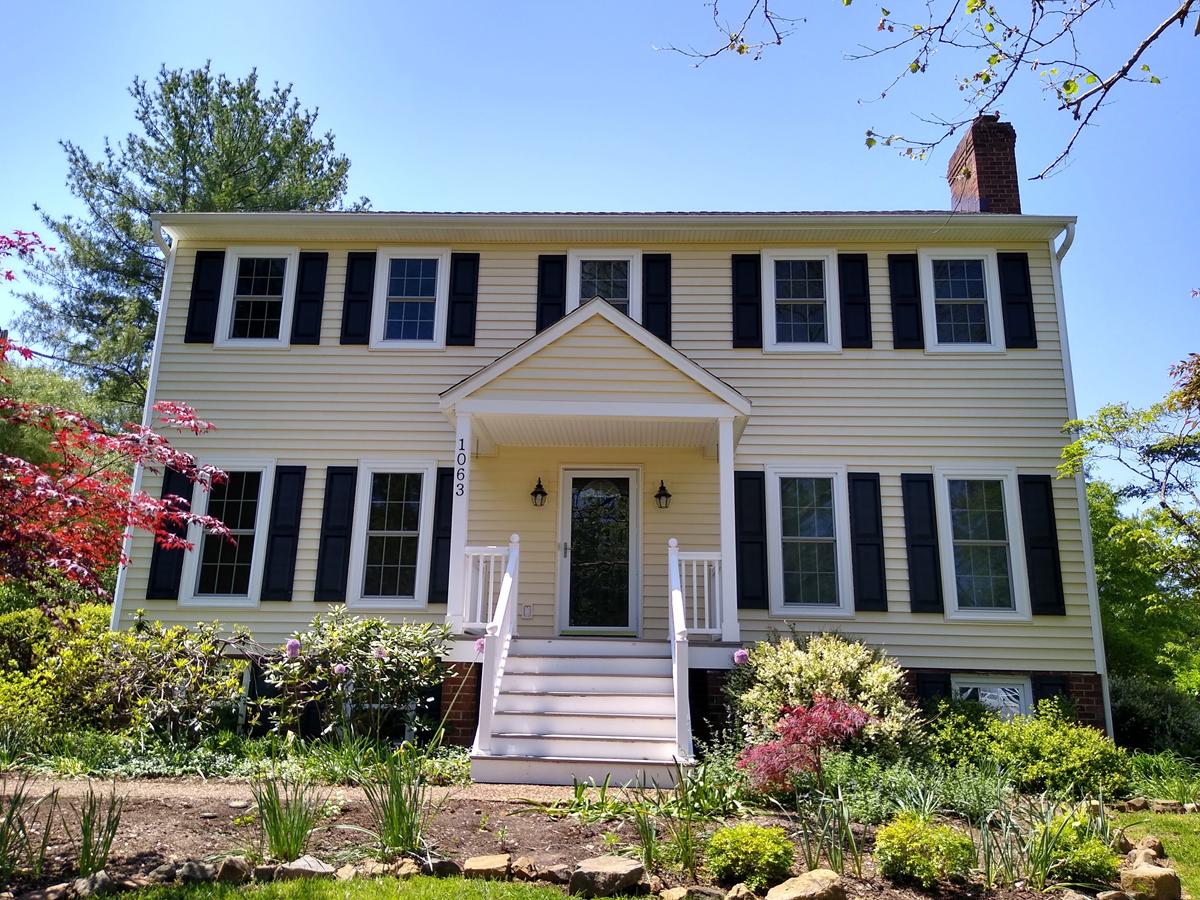 Gutters are an extremely important part of your home's well-being. They control the flow of rainwater and protect your roof, siding, walls, foundation, and the landscape around the home.
Unfortunately, gutters can quickly become clogged with dirt, debris, leaves, sticks, acorns, and even tennis balls. If a gutter remains clogged, the water can damage your roof and both the interior and exterior of your home. Additionally, built up gutter debris attracts bees, ants, squirrels, rodents, and mold that can get into or harm your home.
Although it is a tedious task, you can protect your home by cleaning out all of the debris on the inside of the gutters, or you could hire someone to do so. Many homeowners are unsure how often their home needs a gutter cleaning. The answer varies based on where you live, how many trees are around your home, and what type of trees are close to your home. Experts recommend having the gutters cleaned in the Fall and Spring each year for the majority of homes. Unfortunately, some properties need to have their gutters cleaned every 3 or 4 months based on the tree cover.
Here is a list of the 5 top ways for a homeowner or a professional to clean out your gutters:
How to Clean Gutters by Hand
Perhaps the most common approach to gutter cleaning, cleaning gutters by hand can be effective. To clean gutters in this way, you will need a ladder, gloves, a bucket, and sometimes a nose able to handle the smell! You will also need to be comfortable standing up on an extension ladder or the roof of your home. Use your gloves to scoop out the gutter muck and place what you remove into the bucket. It takes time, but if you are thorough, the gutters will be cleared and able to handle the rainwater. Once your bucket is half full, take it down and dump out the debris in a trashcan or wooded area. It is important to dump the bucket before it is full so that you do not become unbalanced on the ladder. Additionally, flush the downspouts or use a plumber's snake to clear them.
How to Clean Gutters with a Leaf Blower
Cleaning out gutters with a leaf blower can be quicker than cleaning gutters by hand in the right circumstances. The leaves and debris inside the gutter must be dried out in order to clean them with a leaf blower. You must first check to see if the debris in the bottom of the gutters is dry. Unfortunately, the muck in gutters can stay wet for a long time after a rain. If the debris is not dry when you clean it out, then the gutter muck will make a mess all over the side of your house, on the outside of the gutters, and on any decks or porches that you have. Once you get to the downspouts of the gutters, it is best to remove the debris by hand. Doing so prevents you from blowing leaves and debris into the downspout.
How to Clean Gutters with a Vacuum
Cleaning gutters with a vacuum can be very thorough, but it is also the most expensive option. If using a regular wet/dry vacuum, you will most likely clog the vac. To be able to clean gutters in this way, you will need to purchase a specialized commercial gutter vacuum that costs a few thousand dollars. Specialized attachments allow you to clean the gutters from the ground with this equipment and keeps the homeowner or professional safe on the ground. At Dr. Powerwash, we use gutter vacuums for extreme heights or risky roof grades in order to minimize liability. Customers are often very impressed with the results!
How to Clean Gutters with a Pressure Washer
Cleaning gutters with a pressure washer can be an effective method with the right roof and equipment. To clean gutters with a pressure washer, you will need to be on the roof of your house. The reason you need to be on the roof is that the pressure washer will kickback when you use it. It is not safe to be holding onto a ladder while the pressure washer forces your arm and body in the opposite direction. The angle you need to clean out the debris is also not possible from a ladder.
Additionally, the pressure being used must not be too great. If using excessive pressure, you could force the gutters away from the home or damage the shingles of your roof. We do not recommend cleaning gutters with a pressure washer for safety reasons.
How to Clean Gutters with a Garden Hose
To clean gutters in this manner, you will need an extension ladder, gloves, and a garden hose. It is only possible to clean out your gutters with a garden hose if the debris built up in the gutters is light. You can spray out a small amount of debris and flush the downspouts with a garden hose. Unfortunately, you will be unable to clean heavier gutter debris with the small amount of pressure you receive from a garden hose. At Dr. Powerwash, we often flush out gutters and downspouts with a garden hose after first cleaning the gutters with a different technique.
There are many options for a homeowner to clean their gutters and protect their home. Each technique has it's pros and cons. Each individual home also has different needs based on where they are located and how they were built. All of these gutter cleaning approaches can be achieved by an individual homeowner, but they are often very dangerous. Falls from ladders send over 250,000 Americans to the hospital every year. Be extremely careful while cleaning your gutters or call a licensed and insured professional!
By Dr. Powerwash