Should You Wash Your House During Pollen Season?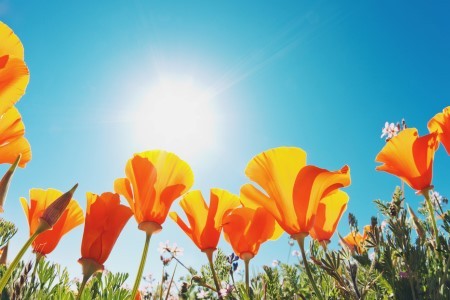 Keeping your home clean and looking its best is a year-round job. Especially when you live in a climate that has all the seasons! Here in Virginia, we battle the summer heat, the leaves of fall, the potential heavy snowfall, and the pollen season in the spring. Whatever it takes to keep our homes looking good, Virginians are up for it! However, you don't have to live in Virginia to know that pollen season presents its own unique challenges. Depending on where you live, the pollen season has various degrees of severity and can make keeping your home beautiful a struggle. We recommend that you wash your house during pollen season to keep up with that pesky pollen.
What is Pollen Anyway?
Pollen is the fine dust that appears to cover absolutely every surface during the springtime! That is our definition anyway. In reality, the scientific description of pollen is a mass of microspores that comes from a seeding plant that appears as fine dust. Pollen is how seeding plants reproduce. The male part of the budding flower of a plant releases the pollen in hopes of connecting with its match across the way. Typically, pollen is produced when warmer weather returns, because this is when the plants start to blossom. This blooming is what makes springtime peak pollen season. This fine, sticky dust finds its way onto our cars, decks, porches, windows, and unfortunately, our homes.
How Long is Pollen Season?
In Virginia, pollen season tends to be from late February through the summer. This is because of all the trees we have here. Oak, maple, and river birch trees are all blossoming at this time of year and releasing their pollen. Depending on where you live, your pollen seasons can be different. Different climates inevitably have different plants, and different plants will have different blooming seasons. Any pollen season — no matter where you live — makes keeping your home clean challenging. It can also be troublesome if you or your family members suffer from allergies.
Should I Wait Until After Pollen Season to Wash My House?
So, what can you do to curb the pollen onslaught? Simply wash your house during pollen season! But shouldn't you wait to wash your home until pollen season is over? This is a question that we are commonly asked by our clients and are happy to answer. As a homeowner, the choice on when to have your home's exterior cleaned is entirely yours and the timing of when you choose to do so makes no difference to us as a company. However, based on our experience, there is no major benefit from waiting until the very end of the pollen season to wash your house. The most important factor is to get rid of the mold, mildew, and grime from the home. Once these organic growths are removed, the pollen does not have anything to cling to and will simply rinse off into the waterways with the next rain. Although it seems logical to wait until after pollen season to have your house washed, there is not much difference. We have returned to houses to check our house washing work months later and there is never any difference between a home that was washed during pollen season and a house that was washed after the pollen season.
Additionally, there are some benefits that come with washing your home during the pollen season. The first is that if you wash your house during pollen season you will be doing your family members a favor. Those with allergies will appreciate a freshly washed home more than you can imagine! When you wash your house during pollen season, you get rid of anything on your home that the pollen could be attaching itself to, thus each subsequent rainfall will easily wash away any pollen that found its way back onto your home. Ensuring that pollen doesn't stick around too long will prevent pollen stains and allergies — making your home and family happy!
Another benefit of washing your home during pollen seasons is that you will most likely be able to book your project with a shorter wait time. High quality and professional pressure washing companies are in high demand in the Spring, so booking ahead of time can mean less of a wait. Instead of having to wait a few weeks for the job to be done, you might be able to get on the calendar that week or the next! Contrary to popular belief, washing your home during the pollen season is a good idea. The answer is simple — you can and should wash your house during pollen season.
How to Wash Your House During Pollen Season
When you're ready to wash your home, the easiest way to do so is by calling your local power washing professional. House washing is a very common service in the exterior cleaning industry, but we suggest getting an established, reputable company to do the work. Not all power washing companies have licenses, experience, or the right equipment, so make sure to do your homework. When it comes to house washing, most homes should actually not be pressure washed. Rather, they should be soft-washed. Make sure whoever you hire is using the right cleaning method. Here at Dr. Powerwash, we use a professional soft washing technique to wash the majority of homes in the Charlottesville area in order to achieve the perfect clean without damaging the siding.
Call Dr. Powerwash to Wash Your House During Pollen Season
When pollen season rolls around and your property and loved ones are suffering, be sure to give us a call at 434-207-6783 or fill out our online form for a free quote! We offer the best house washing services in Virginia and will get your home pollen-free in no time. Whether you need help washing the house, your roof, your driveway, or your patio, we've got you covered. We look forward to hearing from you!