What Is Softwashing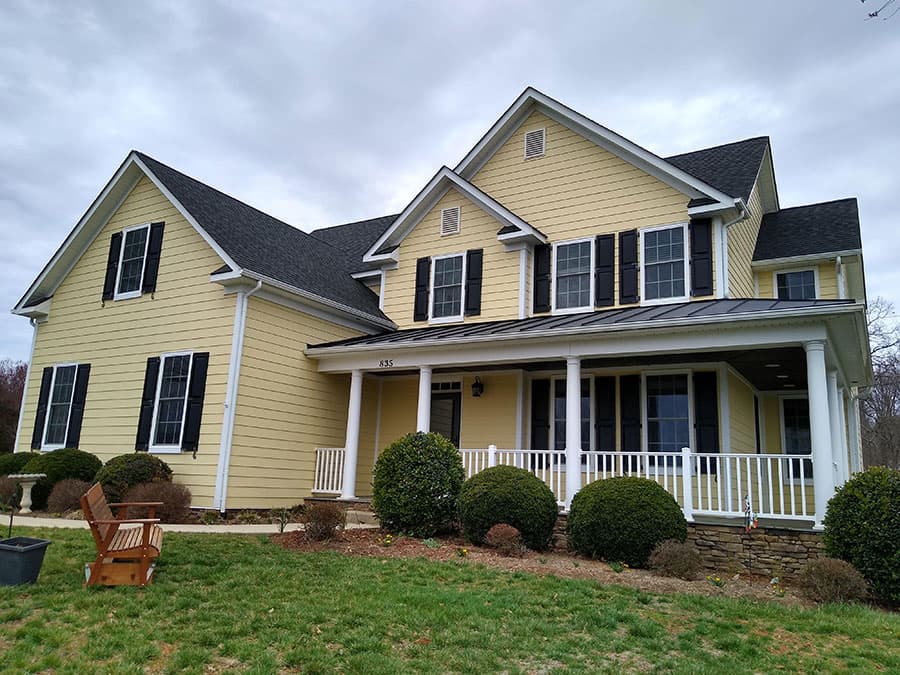 Softwashing is a low-pressure cleaning method that applies a mix of cleaning solutions to remove mold from exterior surfaces. At Dr. Powerwash, we use a biodegradable soap mix to softwash siding, roofs, and other exterior surfaces.
Why Is It Important To Softwash?
Pressure washing a roof will ruin your warranty and often damage the shingles or tiles on a roof. The weakening of the shingles and tiles on a roof could cause significant damage to the home. The mold and algae removed from pressure washing a roof would also not completely kill off all of the mold. Leftover mold that is often under the overlapped shingles would be free to grow back quickly and start taking over the roof. Our softwash roof cleaning system will kill the mold down to the root systems.
Pressure washing the siding of a home is also more likely to result in damage than softwashing. At Dr. Powerwash, we will softwash the siding of your home using a downstreaming method. This method allows us to apply our biodegradable house wash soap mix to the home in order to kill the mold. Once the mold is removed, we will thoroughly rinse all of the vertical surfaces of the home. We will rinse the home with a high volume of water to remove the dead mold, dirt, grime, and soap.
Is Soft Washing Safe For Lawns And Plants?
Yes, not only does soft washing clean your home and increase your home's curb appeal, but it is also safe for your lawn and plants. At Dr. Powerwash, we use biodegradable ingredients that break down into carbon and water within 20 days of application. There are no solvents or phosphates found in our soap, and the mix is entirely water-based.
To further ensure your plants' safety, we follow the best practice guidelines of soaking and rinsing all bushes and plants with water. We rinse and soak the plants before, during, and after our softwash application.
Does Soft Washing Clean A Home Better Than Pressure Washing?
Pressure washing is a very effective method for cleaning sidewalks, patios, and other concrete surfaces. Unfortunately, pressure washing is inefficient when it comes to cleaning the siding of a house and more likely to cause damage. In addition, pressure washing a roof is extremely dangerous and will damage the roof's shingles and integrity.
Soft washing eliminates the mold that has established itself inside niches and crevices, which pressure washing cannot completely remove. The soap used during soft washing completes the job by killing the mold at the roots. Mold is also much quicker to regrow onto surfaces that have only been pressure washed in comparison to soft washing.
In conclusion, soft washing is more efficient and cleans a home more thoroughly than pressure washing. At Dr. Powerwash, we are going to clean your project in the most thorough way possible. We will use pressure washing for sidewalks and patios. When it comes to House Washing and Roof Cleaning, we will use our advanced soft washing technique.
By Brett Maynard of Dr. Powerwash