Why Pick Us for your Pressure Washing Service?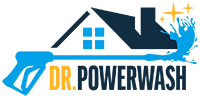 Not only are we going to make the exterior of your home shine and look amazing, we are also going to provide amazing customer service throughout the entire process. Our professionals complete our pressure washing services on a daily basis and go through an intense training process to standardize how to clean safely. We make the experience as easy and convenient for you as possible. Payments and bookings can be completed entirely online or by check according to your preference. Also, you can choose whether to be present when we complete the project or use the time to complete other personal tasks that you may have.
We have some other attributes that make us unique compared to other power washing, soft washing, or pressure washing companies and the following paragraphs will explain why!
We Give Back to the Community
One key aspect that makes Dr. Powerwash unique in the exterior cleaning field, is that we give back 2% of all of our profit to charity organizations. Our charity donations are split between two causes. These causes are Rural Youth Support and Development and the CureSearch for Childhood Cancer. Both of these causes are very important to our Founder and to our management staff. Our professional technicians have embraced the cause as well and enjoy that everything that we do also helps to give back to those in our community in need.
Our Business is Based on Our Core Values
Early on in the life of our business, our team collaborated to create 4 Core Values that would represent everything about our business. Every time we serve a client we rely on our Core Values to ensure that we complete the project according to our standards. We hire top-level employees based on our Core Values and consistently evaluate our practices to make sure we continually meet these ideals. The Core Values are:
True Service - We understand that serving others allows us to look outside ourselves and provide amazing value to others. We always aim to do what's best for our clients and we make doing business with us easy.
Excellence - We provide a high level of training and have a standard of outstanding work. We turn jobs away if we cannot offer a 10/10 service and never settle for completing a task that's just good enough.
Continuous Improvement - We make ourselves 1% better each day. We evaluate ourselves and make team-wide adjustments as needed each week to get better.
Integrity - We do the right thing even when no one else is looking.
Top Rated Pressure Washing Company in the Charlottesville Area
We are extremely grateful to have clients that have rated us for our service. As of the writing of this article, we now have 236 Google 5 Star Reviews. If you combine the 5 Star Reviews or Recommendations on other business platforms such as Facebook, Nextdoor, Yelp, the Better Business Bureau, and our website, we have well over 300 top-level reviews. This number is growing every week and we are extremely proud of the True Service and Excellence our team provides for each and every client.
Experience
Our company is not comparable to a guy trying to do some pressure washing on the side for beer-drinking money. We not only have training but we also have a tremendous amount of experience. Our company has now completed over 1600 pressure washing, soft washing, and gutter cleaning projects. We have cleaned almost every imaginable exterior surface and problem solved in a high level of situations to complete projects to our client's satisfaction for their unique home or business.
Soft Washing, Power Washing, Pressure Washing
Lastly, we have the equipment and expertise to Soft Wash, Power Wash, or Pressure Wash depending on the situation at hand. The surface that is being cleaned and the organic or non-organic material being removed comes into play with which technique we use. Almost all vertical surfaces, houses, and roofs will be soft washed. Walkways, concrete, patios, and decks will be soft washed first, and then pressure washed second, to completely clean the surface. Horizontal surfaces with grease, stains, or extreme mold will need the heated water that we use with our power washing technique. Some companies, or guys doing these services as a side job, only have the equipment to use one or two of these techniques. At Dr. Powerwash, we can use any of these techniques for the situation that comes up as needed and our pros will complete the job safely.
If you ever have any questions about the unique reasons to pick us for your Pressure Washing, Gutter Cleaning, Window Cleaning, and Christmas Lights Installation services feel free to give us a shout!